A rainbow-themed nursery is a popular choice for many expecting parents and parents who love color. With its bright and cheerful colors, it's easy to see why. Whether you're expecting a "rainbow baby" or just love a lot of color, there are endless inspiration for a rainbow-themed nursery.
It's important to note that rainbows come in different styles as well. If you're not looking for an all-bright rainbow theme, consider a desaturated or monochrome rainbow theme. Pastel rainbows are also a beautiful option. Whatever direction you choose for your rainbow nursery, we've got plenty of inspiration to help you plan and get your shopping started.
1. Neon Rainbow Themed Nursery
This rainbow-themed nursery is so colorful and vibrant, it's almost overwhelming! With the use of bold hues and a cheerful mural, this baby room creates a cheerful and happy atmosphere for families.
Read Also: 15 Eye-catching Black and White Nursery Ideas
2. Boho Rainbow Nursery Decor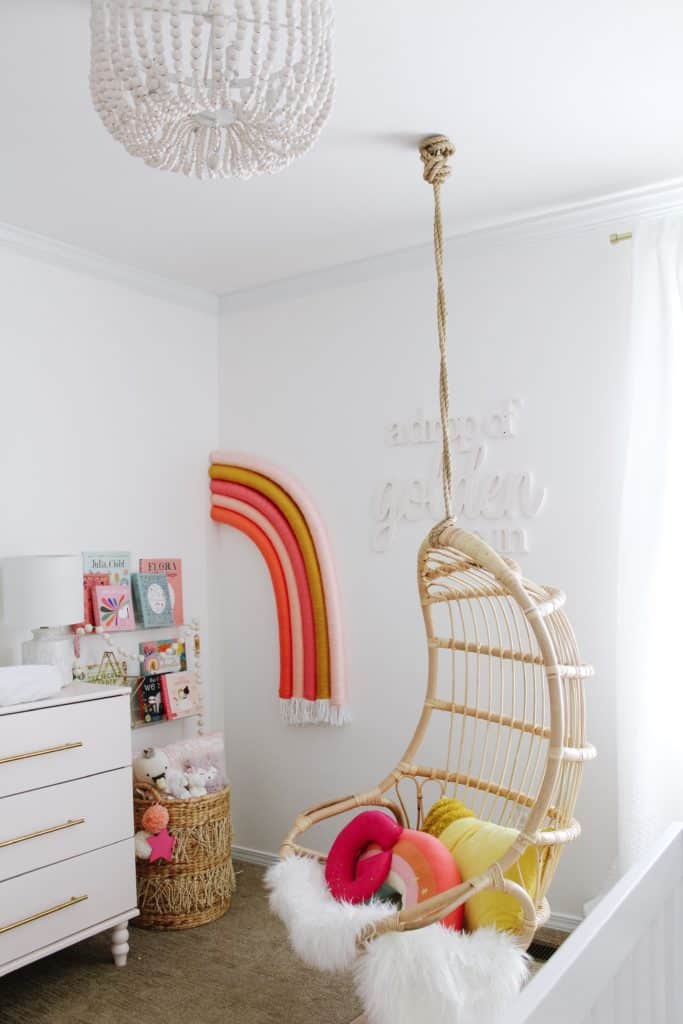 Creating a bohemian-inspired nursery can bring a sense of serenity to a room. And incorporating a rainbow theme into a bohemian-style nursery takes the design to a new level. The use of a hanging rattan chair in this room adds a touch of perfection and gives the room a unique and complete look.
3. Rainbow Nursery Wall Art
A subtle way to incorporate the rainbow theme is through the use of wall art. This allows for a more versatile design, as the artwork can be changed as the child's interests and preferences change without the need for a complete room overhaul.
4. Polka-Dot Rainbow Nursery Idea
Get creative with your rainbow theme by thinking outside the traditional stripes. Using multi-colored dots is a playful and unique way to convey the theme. Another great detail is the use of tissue paper to create a stained-glass effect rainbow on the window, adding an extra touch of charm to the room.
5. Rainbow Nursery Details
Add a bold statement to your rainbow-themed nursery by incorporating a themed dresser. This can be achieved through a simple swap of colorful drawer pulls or by painting the drawers in a descending rainbow color order. The combination of the polka dot wall and other bright details make this room truly outstanding.
6. Rainbow Nursery Mini Motifs
If you're searching for a gender-neutral rainbow-themed nursery, consider incorporating subtle design elements such as small woolen rainbow motifs. This can bring a cohesive feel to the room without being too gender specific.
7. The Right Rainbow Nursery Rug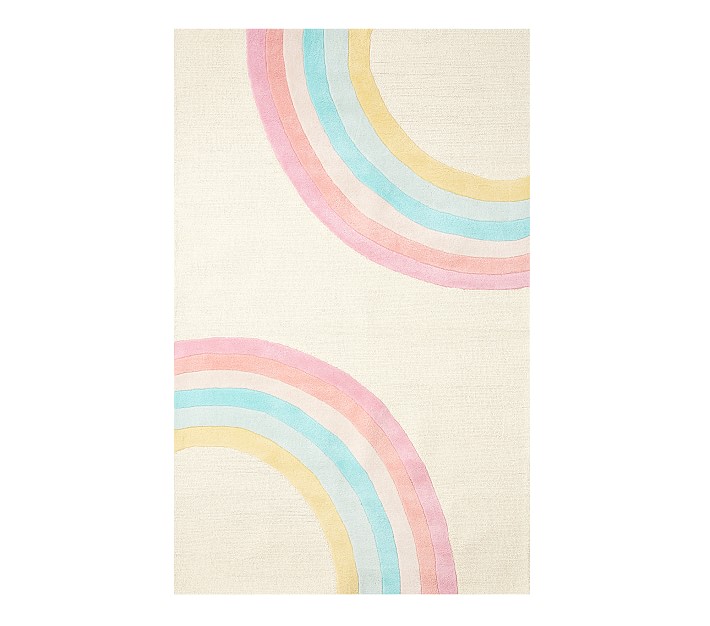 A rainbow-colored throw rug can serve as a great way to tie together a simple space, much like a painted wall. If you're opting for a pastel rainbow theme, there are plenty of options available to match your decorating vision.
8. Rainbow Nursery Corner
A small room can still be transformed into a vibrant rainbow nursery with a few well-placed colorful details. The use of a rainbow-colored baby toy and a bright throw in this corner of the room create a playful and inviting space for a baby
9. Black and White Rainbow Nursery
A simple yet effective way to incorporate the rainbow theme is through the use of shapes. This black and white sweeping rainbow painting is an elegant way to establish the theme without adding too much color.
10. Playtime-Ready Rainbow Nursery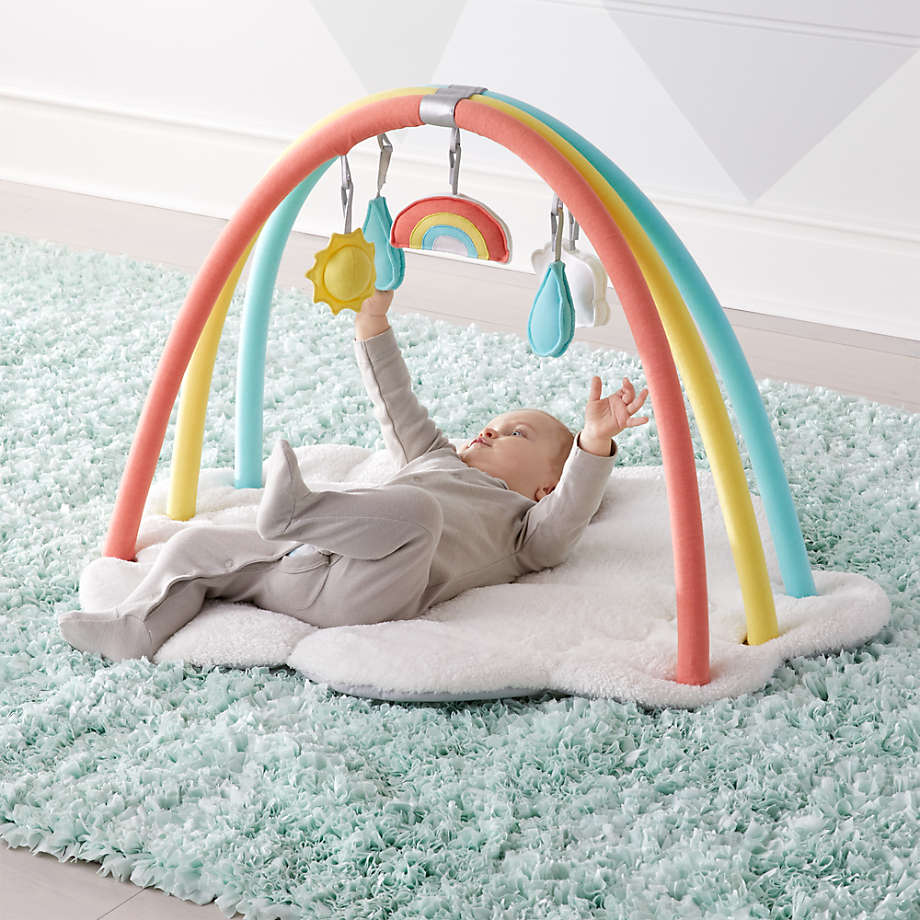 Rainbow-themed toys for babies are both fun and unique, and this activity gym is a great way to combine both the theme and functionality. The great thing about using cute toys like this one is that they do not add to the clutter and can be left out after playtime without feeling messy or overwhelming.
11. Rainbow Nursery Crib Sheets
An easy way to incorporate the rainbow theme in a nursery is through the use of bedding. This can be easily changed later on as the child grows and their interests change. The bright print on this crib sheet is suitable for both a boy or girl's nursery and can be coordinated with a wide range of linens and accessories to create a cohesive look.
12. Bright Rainbow Nursery
This nursery design is perfect for those looking to create an energetic and vibrant atmosphere for their baby's room. The use of tutus and a chandelier adds a unique and playful touch, while still maintaining the overall theme in a pink-forward way that is sure to delight any child.
13. Watercolor Rainbow Nursery
If you're not comfortable with creating your own mural, there are pre-made options available. However, if you are willing to put in a bit of DIY work, it is possible to create a similar look using paint and some patience. A bold accent wall is an effective way to take your rainbow-themed nursery to the next level and can be coordinated with other elements such as a crib skirt as shown here.
14. Rainbow Nursery Mobile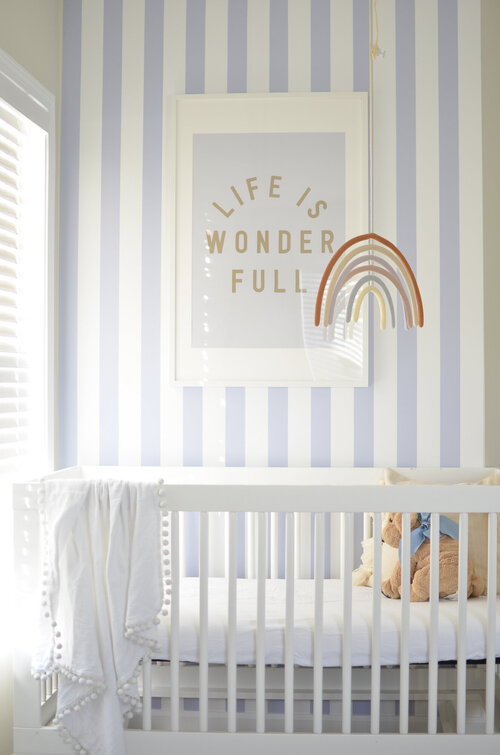 Not everyone may want to go all out with a rainbow-themed nursery, but that doesn't mean you can't still incorporate the theme. One way to do this is by adding a subtle rainbow-colored mobile above the crib, providing a touch of color without overwhelming the room with too much decor. This can be an easy and perfect solution."
15. A Rainbow Nursery That's Exploding With Color
If you do decide to go all out with a rainbow-themed nursery, there are many ways to make it special and fun. This design incorporates bright toys and accents, a variety of prints to keep the eye moving, colorful furniture, and multiple shades of paint to create a cohesive and vibrant space for a child.