Get your baby boy's nursery ready before his arrival with these inspiring baby boy nursery ideas. Whether it's a dedicated room or just a corner of your bedroom, these tips will help you create the perfect space for your little one to sleep and play. With a bit of creativity and a lot of love, any space can be transformed into a cozy and fun nursery for your baby boy.
1. Crisp White Nursery Idea for Boys
A mostly white nursery for a baby boy creates a serene and tranquil sanctuary for both parent and child. Achieve this look by painting the walls white, incorporating white furniture and flooring, and adding subtle touches of black or other neutral hues for visual interest.
2. Animal Boy Nursery Idea
This boy's nursery with an animal theme exudes a regal vibe with its striking colors, mesmerizing wallpaper and skillful combination of patterns, making it a room filled with charm and character.
3. Baby Boy Nursery Theme With a Brick Accent Wall
Creating an accent wall is a trendy design idea, and the white brick look is a perfect option for a baby boy's room. Emulate this image by placing your son's name in large, bold black letters above the crib for a striking focal point.
4. Baby Boy Nursery Ideas With Clothing
Just like baby girls, baby boys deserve to have their wardrobes on display. Incorporate folding racks, decorative hooks, open shelves, and other creative ways to showcase their tiny outfits, adding a touch of elegance to the nursery decor. As your baby boy grows, these racks or hooks can be utilized for storing toys, dress-up clothes, and more.
5. Bold Boy Nursery Decor
This modern boy baby room showcases that monochrome is not the only option and that color can be embraced and create a stunning, unique look. Use a deep emerald wall color and incorporating mid-century modern furniture in the nursery for a bold and daring design.
6. Green Boy Nursery Decor
Blue is often considered the traditional color for boy nursery decorations, however, many parents are experimenting with other beautiful hues. Using a different color will create a nursery that makes you green with envy and looks even better than your own room!
7. Classic Boy Nursery Decor
A classic baby boy's nursery room features a combination of baby blue, soft white, and plenty of personalized details. The inclusion of silver heirloom cups, vintage toys, and a harmonious blend of soft patterns creates a dreamy and serene atmosphere.
8. Striped Boy Nursery Decor
A contemporary baby boy room design that merges nautical stripes with sophisticated sports elements, creating a space that exudes a masculine vibe without being over the top.
9. Baby Boy Nursery Bedding
Create a serene and tranquil environment in your little one's crib by incorporating a calming blue and white pattern such as this coastal toile on a white crib, which serves as the perfect complement to the playful and colorful decor elements in the rest of the room.
10. Oh Boy! Baby Boy Nursery Idea
This nursery design exudes a subtle masculine vibe with the "Oh Boy" wall-hanging while the neutral wall color serves as a backdrop, allowing other details like the blue poufs and chevron curtain to stand out without overpowering the overall design.
11. Wood & Straw Baby Boy Nursery Decor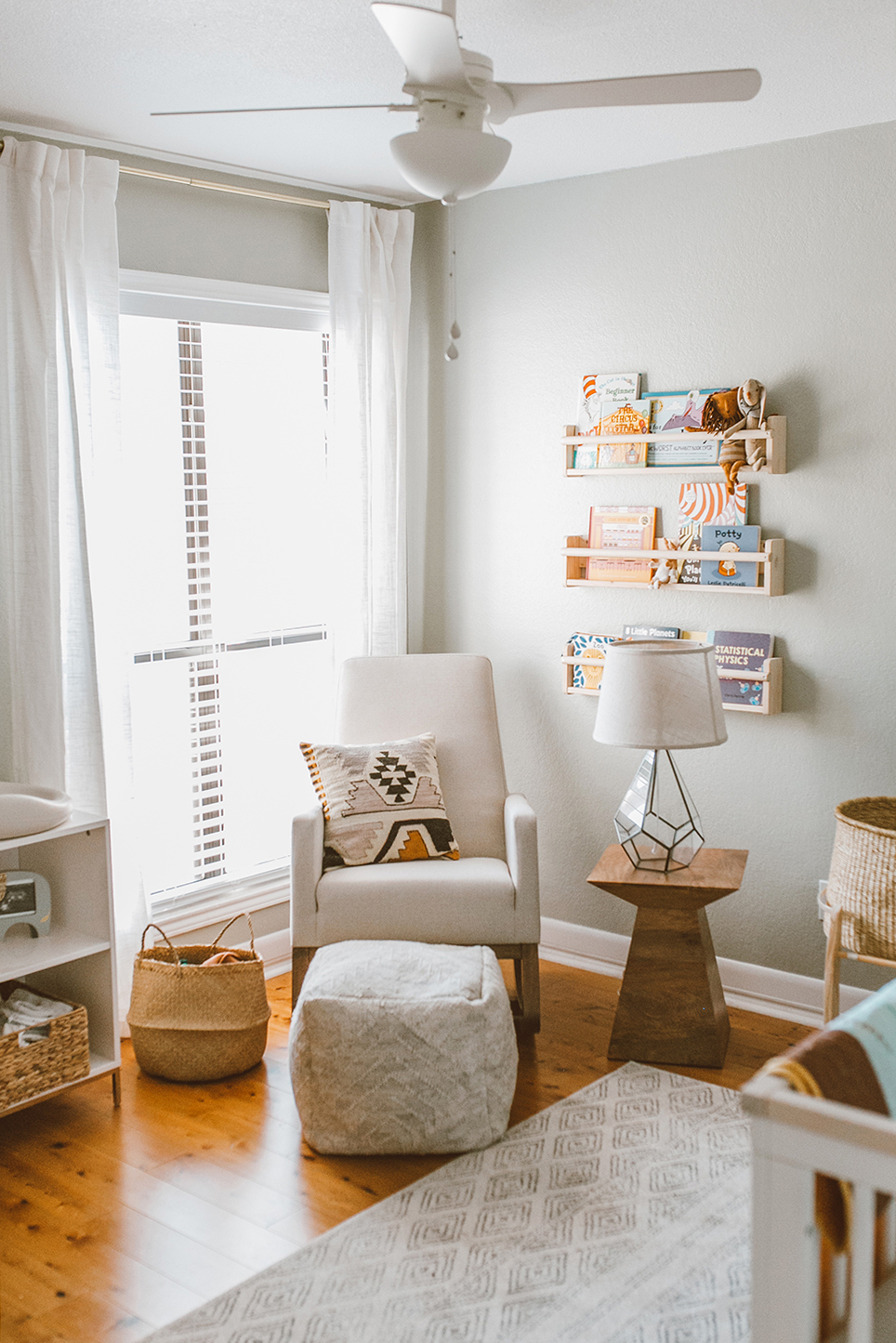 This baby boy nursery theme featuring natural materials and mesmerizing textures is sure to leave you smitten. Hardwood floors and straw baskets create an ideal backdrop for any decorating aspirations you have for your little boy's room.
12. Neutral Boy Nursery Decor
A neutral, earth-tone baby boy nursery featuring shades of cream, brown, and gold exudes a sophisticated and elegant look.
13. Wordy Boy Nursery Decor
Word art is a popular trend in nurseries and can be incorporated in a baby boy's nursery by using quotes, song lyrics, or any text that holds personal significance. This design takes it a step further by incorporating words on the throw blanket, adding a modern touch to the room.
14. Blue Sky Baby Boy Nursery Theme
A creative way to incorporate the classic boy nursery color is to create a blue accent wall with cloud-dotted details. The hot air balloon detail serves as another way to tie in the theme without going overboard.
15. Grayscale Boy Nursery
A monochrome baby boy nursery in soft shades of gray is a charming option if you prefer a more subdued color scheme while avoiding the stark contrast of black and white. By incorporating various textures such as velvet, plush, feathers, and paper, you can create a gentle and inviting space for your baby.