The 15 Best Twin Nursery Ideas for Double the Fun" is a compilation of creative and functional solutions for designing a nursery for twins. From smart storage solutions to unique crib arrangements, these ideas will inspire you to create a cozy and stylish space for your little ones. These twin nursery inspiration photos will help you to get started on your decorating journey and make sure you have double the fun creating the perfect nursery for your twins.
1. Twin Nursery Art
This nursery has us doing a double (and triple) take! The Gray Malin print above the cribs is a stylish nod to having multiple babies and we love it.
2. Boho Beautiful Twin Nursery
This beautiful neutral nursery is a bohemian dream for twin baby girls. However, the same color scheme and design elements can easily be adapted for twin boys or a boy-girl pair. The combination of earthy browns and tans, paired with wicker furniture and unique toys, creates a stylish and functional twin nursery that any babies would love to call home.
3. Back-to-Back Babies in a Twin Nursery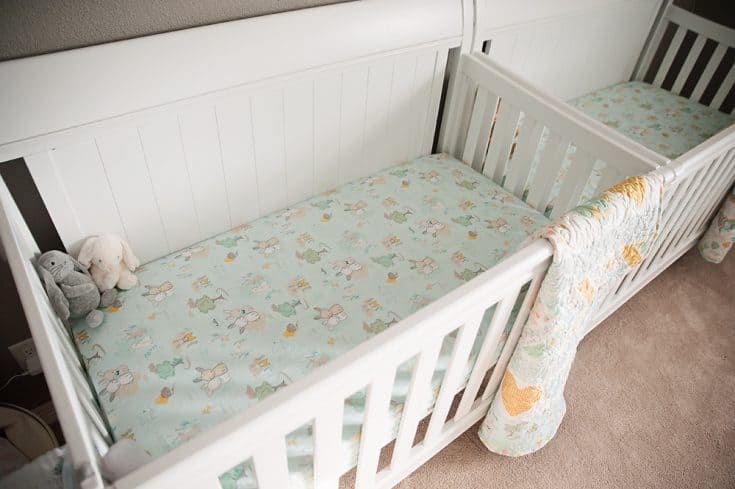 Placing cribs in a small room or dedicating only one area of the room for sleep can be challenging. These parents chose to put the cribs side by side with one end touching, creating ample space for storage, play, and changing.
4. Twin Nursery + Play Space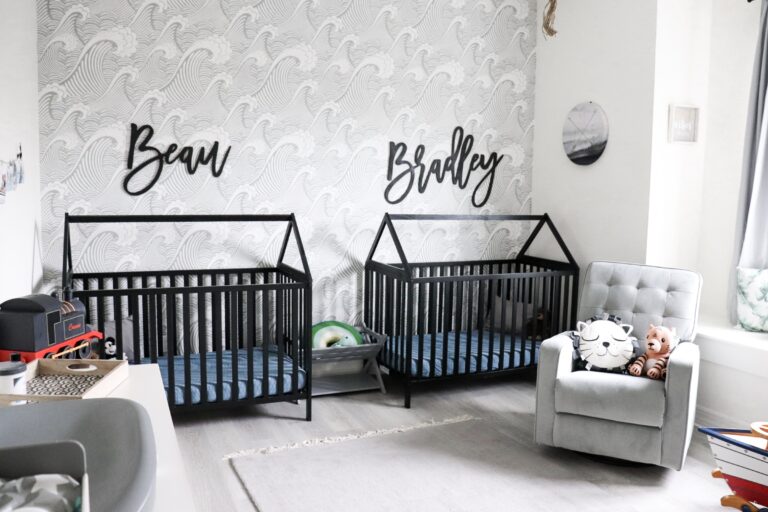 Creating a balance between practicality and fun is crucial when designing a twin nursery. Incorporating a play area not only helps to reduce clutter in other areas of the home, but it also encourages the twins to enjoy their space. Having a designated play area in the nursery also makes it easier to take care of the twins, whether it's changing diapers or feeding, as one twin can be entertained while you attend to the other.
5. Old World Aesthetic Twin Nursery
This neutral twin nursery is a true success with its simple and clean design featuring black-and-white basics, accented by eclectic gold elements, a globe and vintage-style trunk that all come together to create a cohesive look.
6. Twin Nursery Attic Takeover
A twin nursery on the third level of a home offers a wealth of design possibilities, including vaulted ceilings, window seats and extra space. With the advancements in baby monitor technology, parents can now comfortably place the nursery on a separate level without worrying about sleeping arrangements. These parents took advantage of their attic space to create a modern and state-of-the-art nursery for their twin daughters.
7. Mint Condition Twin Nursery
Mint green is a versatile and baby-friendly color that can be a great accent for a shared nursery for boy-girl twins. The soft, neutral hue pairs well with monochrome, metallic, or pastel colors, allowing for individualized spaces while still maintaining a cohesive look throughout the room.
8. White-Washed Twin Nursery
A white color scheme can make even the most crowded twin nursery look clean, bright and relaxing. If you are limited on space and have double the babies and gear, consider an all-white approach like the parents of these boy-girl twins did.
9. Maximize Your Twin Nursery Storage Space
Having twins means having twice the amount of baby items. Make use of every available space by incorporating baskets, bins, boxes, and storage cubes to keep baby essentials organized, out of sight and easily accessible.
10. Angled Cribs in a Twin Nursery
When space is limited and you don't want to crowd the room, consider being creative with the cribs placement. Angling the cribs as shown here, not only adds visual interest but also provides some hidden storage space.
11. Twin Nursery With an Accent Wall
Having twins doesn't mean you have to compromise on the design of their nursery. An accent wall can help to make the furniture and decorations stand out and add visual interest, even if you have limited space.
12. Mini Man Cave Twin Nursery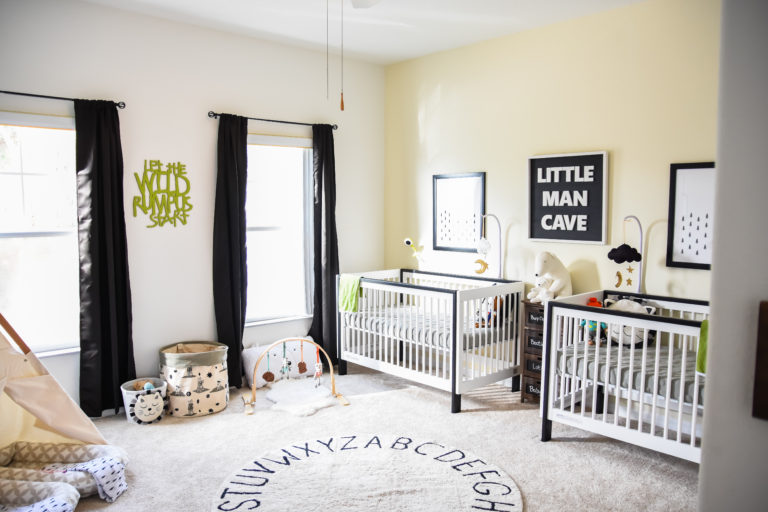 This black-and-white nursery for twin boys is the epitome of bold, bright and modern. The cribs are stylish, the art is simple yet striking, and the mini-tent is perfect for lounging. This twin parent has successfully created a double nursery that is both functional and visually appealing.
13. Twin Nursery With Bold Wallpaper
This twin nursery is filled with beautiful details, from the lush wallpaper, the soft accents, to the pair of macrame chandeliers that add a touch of elegance. It is a dreamy space that is hard not to love.
14. Twin Nursery With Couch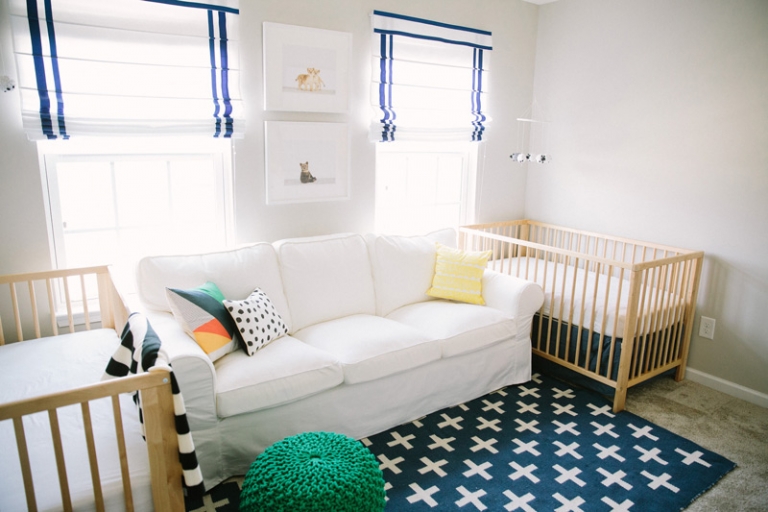 Incorporating a daybed or couch in the twin nursery is a stylish way to keep the babies close by once they have moved out of your bedroom. The addition of a couch also provides a functional area for two parents or a parent and a caregiver to feed and cuddle the babies at the same time, while also allowing for socializing and relaxation.
15. Twin Nursery With Dueling Rockers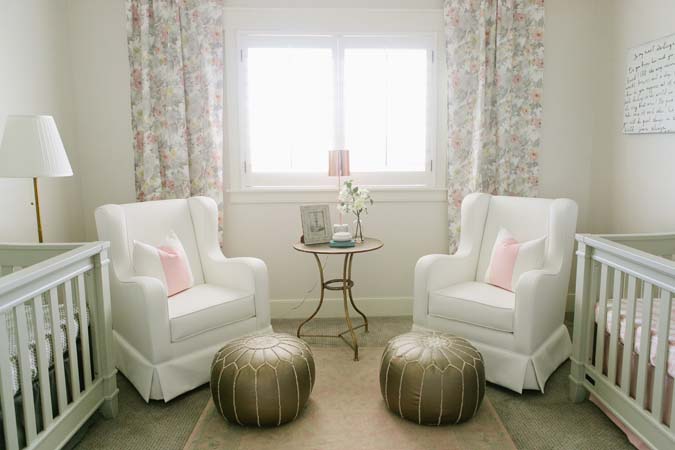 This twin nursery features a charming conversation and cuddle corner with rocking chairs, which is a great addition for any twin nursery. Not every room may have space for two rocking chairs, but if it does, it can be beneficial for scheduling and reducing sleep loss as it allows for two caregivers to simultaneously attend to the babies during naps and bedtime.